Green Site: tumalotech.com
This Website is Green Certified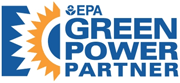 This certifies that the data centers, web servers and web hosting offices supporting tumalotech.com are powered by 100% wind energy.
What Makes tumalotech.com a Green Website?
By choosing wind-powered web hosting solutions, tumalotech.com has become a certifiably green website.
Green Certified
By partnering with Community Energy and belonging to the EPA's Green Power Partnership Program, we certify that tumalotech.com's hosting is powered by 100% wind energy.
That means by using wind-powered hosting, tumalotech.com has helped prevent the annual release of approximately 2,660 metric tons of carbon dioxide into the atmosphere, without sacrificing the functionality of their site. To put this number into perspective, the benefit is equivalent to planting nearly 2,390 acres of trees or preventing the environmental damage caused by 6.1 million miles of driving.
Since it is impossible to have wind turbines on our roof tops, the company buys wind-generated Renewable Energy Credits (RECs) to offset their energy use. The number of credits purchased by the company is equivalent to the KWH of electricity used.
For more information about what you can do to reduce your carbon footprint, please visit Community Energy Inc. or the EPA Green Power Partnership Program.